The desire by schools to remain relevant in the 21st century depends on how far they are ready to embrace relevant digital learning solutions inside and outside the '21st-century classroom'.
The 21st-century classroom is designed to embrace innovative tools and learning practices to wrap education around the new digital generations.
In a nutshell the teachers today must be adaptive, well-prepped, creative, and always evolving with technology and other innovations.
If this is not done, they will have denied their learners the necessary opportunities and skillsets to become relevant when they grow up.
The bottlenecks…
Whereas classroom instruction based on innovative digital tools is showing glimpses of hope in many pre-college schools around the world, it is receiving lukewarm adoption in others, because of a lack of resources, and procrastination.
The pessimists are still looking for reasons to hold it off for a few more decades, and hope they can get away with it!
Hopefully, the procrastination will only last a while as the greater good for the children of tomorrow takes precedence.
Fortunately, today's Millennial parents and teachers are quickly figuring out ways to digitalize education at home and at school.
Millennials are known to encourage their children to adopt technology faster than the older generations, and the new breed of educators is working around the clock to master new teaching methodologies to become relevant teachers.
Exactly what is digital learning solutions today?
Digital learning describes all instructional practices, solutions, and tools which make use of technology and learner understanding to enhance the learning process in the 21st-century classroom.
The purpose is to upgrade the learning environment to modern technological realities and take advantage of individual learner abilities.
Even as the COVID-19 pandemic illustrated, distance learning through online tools is quickly becoming the norm for higher learning institutions and elementary classes.
Several arguments are associated with e-learning. Accessibility, affordability, flexibility, learning pedagogy, life-long learning, and policy are some of the arguments related to online pedagogy. It is said that online mode of learning is easily accessible and can even reach to rural and remote areas.

Journal of Educational Technology Systems
Further still, the technology devices are enablers for teachers and learners to communicate at a personal level for better learning. As much as face-to-face encounters matter a lot, they are usually encumbered by large student numbers and time.
Overall, both learners and teachers get to integrate the digital and non-digital forms of learning for an all-round learning environment.
Here are the strategies, areas, and tools for enhancing digital learning in the 21st century classroom:
Rich media & electronic book forms
Mobile computers
Interactive and smart learning tools
Distance learning resources such as Google Classroom, Microsoft Teams, and Zoom
Online & offline assessment
Youtube channels
Online digital communities
File sharing sites
Online apps
Virtual reality
Augmented reality
Gaming
Blended learning
Chatbots
The reasons why digital learning solutions are critical today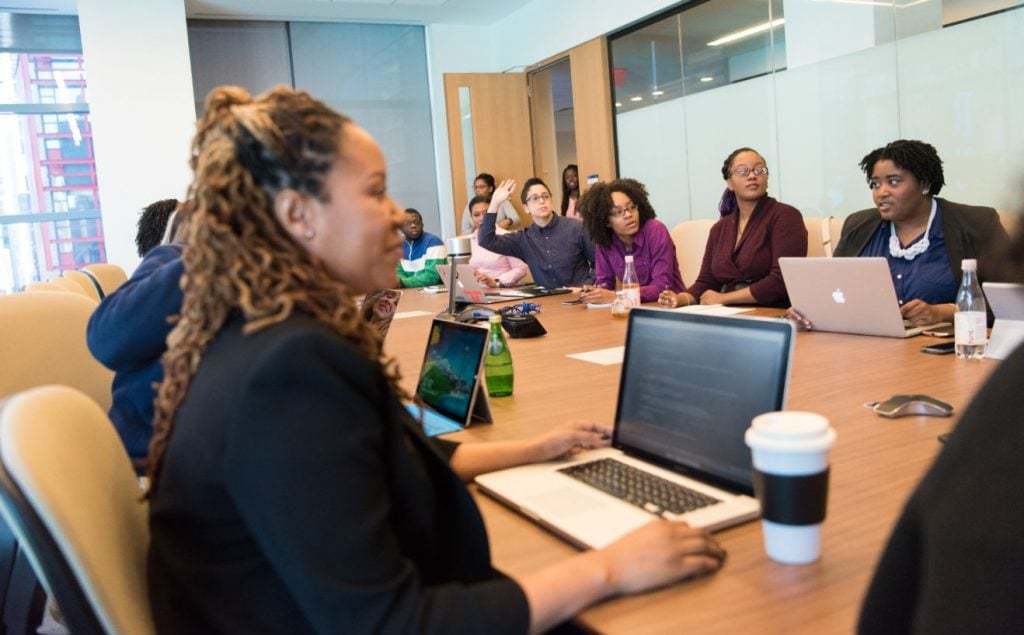 1. The ready alpha market
Alpha children, who form the bulk of children today do not have to go to school to learn the basics of computing.
They acquire these skills through exposure at home. They practically start using technology devices very early on and fin it easy to weave their way around the ubiquitous Internet of Things (IoT) in the house.
In a UNESDOC file regarding the Pursuit of Smart Learning Environments for the 21st Century,
Learners today utilize mobile gadgets and applications as their primary sources of information, knowledge, and social discourse. However, despite these advances in educational technologies and the way learners have adapted to their changing environments, many classrooms today still employ teaching methods of the past: lecture formats, unauthentic assessments, and rote learning.
It is therefore absurd when they enter school classrooms that are yet to embrace the digital ecosystem. It is no wonder they easily become bored, confused, and go through learning with little or no interest.
2. The engaged and stimulated Alpha mindset
By the time Alpha children start formal education their brains are stimulated enough towards the digital acquisition of skills and knowledge.
After playing computer games and learning to solve multiple interactive tasks at home, they are fine-tuned to explore other possibilities in the classroom.
The eager mind in them yearns for challenging assignments beyond what traditional education offers. It is boring when they have to sit back and let the teacher talk endlessly, or have to scribble notes routinely.
To tap into these brains, parents, and teachers have to re-evaluate and equip themselves with relevant knowledge in order to flow with the needs of the 21st Century.
3. Staying ahead of the learning curve
Just like newspaper articles become outdated the minute they hit the streets, so are textbooks used in traditional learning models.
The internet is awash with old and new data that can be sourced with relative ease. These are available as digital textbooks, audio references, and podcasts, and can be sourced by downloading and online collaboration.
This then begs the question: Are textbooks dead?
Of course not, but still, the Internet is fast becoming the preferred source of information for learners, educators, and the general public. On the other hand, textbooks are becoming expensive by the day.
Nostalgia aside, it may come as a relief to many, then, that textbooks are becoming anachronistic. Digital in-class learning materials, like software that adapts to the ways in which individual students acquire information, and other forms of virtual education content are becoming more effective and intelligent.

The Death of Textbooks?
4. Online and offline collaborations
Learners and educators from one part of the globe can now engage with peers from other geographical locations and share valuable content online.
Time, path, space, and place do not limit this collaboration, as it encourages engagement beyond the classroom. In this learning environment, content and ideas are embraced from near and far.
The educators are thus challenged to keep up to speed with the explosive amount of resources available globally, and the curious mind of digital learners.
5. Preparing for future job markets
The speed at which digital trends evolve today means that digital learning tools and solutions should be used to prepare learners for new possibilities in the future market.
Parents and educators have to keep an open mind about what may or may not happen in the job industry, by getting their children prepped with multiple digital-oriented skills.
Or else they ran the risk of producing redundant Alpha adults.
While many vocations will remain relevant in years to come, it is not entirely clear what kind of digital jobs will be available for digital natives in the next 20 years.
Just to illustrate, it was hard to predict, 20 years ago, that career descriptions listed below would even appear in job listings:
Mobile phone app developer
Technical evangelist
Social media influencer
Digital prophet
Data detective
It is interesting to imagine how advancement in Automation and Artificial Intelligence (AI) will shape the job market in the next few decades.
In any case, the second wave of digital transformation is a harbinger of things to come. It is all built around excellence in service delivery, simplicity, and of course intelligence automation.
In contrast to traditional automation which relies on prescriptive instructions and structured data inputs, Intelligent Automation assists with each step of the automation cycle, and then continues to improve over time.

The IA cycle begins with process discovery, where AI-powered tools automatically observe the work activities people are doing, identify optimal workflows, and propose an automation path.

At the automation stage, intelligent automation applies AI to access unstructured information, including human chat conversation, audio, and video, which is crucial to making end-to-end automation possible—In today's enterprise, unstructured information represents 80% of all business data.

Intelligent automation
6. Embracing higher-order-thinking skills (HOTS)
Higher-order thinking skills (HOTS) empowers learners to acquire knowledge for transfer purposes, unlike traditional rote learning which emphasizes learner ability to recall textbook notes.
Learners then replicate their learning successes in assessment tests.
According to Anderson and Krathwohl (2001) teaching based on knowledge transfer, empowers learners to internalize what they have learned and use it in real life.
This is a concept-centered approach aimed at fostering skill development, metacognition, critical thinking, and problem-solving strategies.
As far as technology goes, we do not use computing devices to only read and reproduce information. It is about understanding them and using them as target tools to better our lives in the 21st century.
The proliferation of internet data and computing devices also means that information is available for free both for educators and learners. This is accessible through mobile phones and desk-based computers, anytime and anywhere.
Gone are the days when teachers owned information and passed this to learners at regulated time frames. Today, smart learners can source even better information online.
Needless to say, educators need to embrace practices that are more than just acquiring information and passing it on to learners.